Venture Capital Funds Formation
Like other private funds, venture capital funds (VCs) are investment vehicles created by investment managers, also known as general partners (GPs). The primary goal of these funds is to raise capital for the purpose of making multiple investments in a specified industry sector or geographic region. Some of the more popular sectors for venture capital investors include biotech, robotics, telemedicine, and cryptocurrency.
For entrepreneurs and startups, venture capital is a form of financing through private equity funding that is provided by investors who wish to invest in a company's long-term potential. While the focus of VCs may be defined by many different variables, most are identified by either size (small, medium, large) or focus (strategic, financial).
How is a Venture Capital Fund Structured?
Venture funds allow passive investors to participate in "blind pools", where they make a commitment to invest a specified amount of capital over time. These investors, also known as limited partners (LPs), benefit the fund sponsor's expertise in sourcing, managing, and divesting the fund's investments for the greatest return. The key incentive for investors is the opportunity to earn a high rate of return on the capital they invest, through a portfolio of strategic investments.
It is important to note that VC investors are not always individuals. They could also include pension funds, corporations, universities, governments, and funds investing in other funds. Most funds have multiple LPs, but almost always fewer than 100. This limitation is made for practical and legal purposes as larger funds are subject to different securities laws.
How do Venture Capitalists Make a Profit?
Venture capitalists earn their profits through the ownership of large quantities of company shares, and while private equity firms typically provide the venture capital, banks are also involved.
It is important to note that since many of the investments are made in start-ups or unproven companies, venture capitalism is considered riskier than traditional equity investing. However, it also can provide very high long-term gains.
Capital investments from private equity firms are typically held for 10 years or more. As a result, many venture capitalists and private equity firms take active roles in determining the management of the company and the direction of the business. Other firms may own minority shares of the underlying company.
Venture capital fund sponsors (GPs) benefit from earning management fees and profitable participation in the fund's investments. Management fees pay the day-to-day expenses for the fund and running the office, usually 2% of the fund size. Carried interest, also known as "carry", is the cut that GPs earn from the fund after disbursing profits to the LPs, usually 20% of the profits. For VCs, carry is the real financial and reputational upshot.
As the actual managers monitoring the fund, GPs are expected to be full-time employees of the fund, but occasionally a GP will also be running another company. When the fund sponsor is acting in a consulting capacity with the firm, they may be called a venture partner or operating partner.
Fundamentals of Venture Capital Fund Formation
Determining the Structure of the Fund
Before getting into the types of entities involved, it is important to understand the timing. Most VC funds will require LPs to provide capital funds for a period of five years, followed by another five-year period where funds are harvested. In some cases, funds will include a clause allowing for the extension of this harvest period by a few years, in an effort to achieve higher returns.
When forming a new VC fund, one must first determine the type of entity it will be. This is usually based on the type and the number of investors.
LLP vs. LLC
Most VC funds make use of the LLC or Limited Liability Corporation, but it is important to understand the nuances of both the LLC and the LLP.
A Limited Liability Partnership (LLP) is a hybrid of a corporation and a partnership, allowing for the greatest tax advantages and liability protection, which are shared by the partners.
More commonly used by professional organizations (lawyers, accountants, architects), LLPs are typically managed by a managing partner who cannot escape liability. Also, the partners in an LLP must be actual persons, not entities or corporations, and will generally have more protection against liability than the managing partner. However, there are situations in which members cannot be isolated from liability.
With an LLC, the owners' liability is just as limited as the partners, and the company can be managed by someone other than a member. Keep in mind, however, that while liability is limited there are situations in which members cannot be totally isolated from the actions of other members.
3(c)-1 or 3(c)-7
Another consideration when structuring a new private equity fund is whether the fund will be a 3(c)(1) fund or a 3(c)(7) fund. There has been quite a bit of confusion over the difference between the two frameworks. Each are defined by how they treat the exemptions from legal requirements imposed under the Investment Company Act of 1940 on investment companies.
According to the Act, an investment company is defined as an issuer that "holds itself out as being engaged primarily or proposes to engage primarily, in the business of investing, reinvesting, or trading in securities." In most cases, private investment funds such as VC funds and other private investment vehicles, fall outside of the purview of this law, as it allows them to avoid the Act's requirements, including SEC registration, and other prohibitions and disclosures.
In order to be considered exempt from registering as an investment company, a venture capital fund must file under one of these two frequently used exemptions:
The fund must:
Not make or propose to make a public offering of its securities, and
Either limit the fund to no more than 100 investors (the 3(c)(1) exemption), or
Limit the fund to "qualified purchasers" (the 3(c)(7) exemption)
Determine the appropriate jurisdiction:
Onshore funds: In the context of VC funds, onshore indicates a fund is located in the United States, such as a Delaware corporation. European locations for onshore funds would include the United Kingdom, Luxembourg, and Dublin. Compared to offshore alternatives, onshore locations have higher tax rates and more onerous and expensive regulatory rules.
Offshore funds: For U.S. investors, offshore might be a location like the Cayman Islands. European offshore jurisdictions might include Jersey or Guernsey, the largest of the Channel Islands. For example, in Jersey there are nearly 15,000 financial services professionals and nearly 900 different investment funds. These jurisdictions are generally faster, easier, and less expensive to work with than onshore alternatives.
Parallel funds: In some cases, where there are non-US investors, a parallel fund is created in jurisdictions outside of the one where the fund is located. These funds allow the GPs to pool their money into a separate fund that allows them to invest in the same fund on a no-load basis (i.e., without paying themselves a management fee or carried interest.)
Investors into parallel funds add capital into the same investment vehicles as the main fund and exit them simultaneously as well. They invest directly into each asset in parallel with the primary fund and in fixed proportions with their respective capital contributions.
Master-feeder vehicles: This structure is commonly used to accrue funds raised from taxable and tax-exempt U.S. investors into one central vehicle (the master fund) in order to improve the economies of scale and enhance the critical mass of tradeable assets, which enhances operational efficiencies and reduces costs.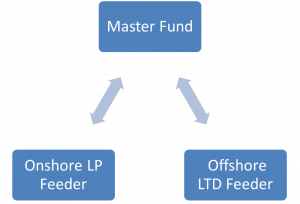 A master-feeder fund generally involves the use of a master corporation, located in a tax-neutral offshore jurisdiction) into which separate feeder funds invest. By electing certain tax remedies for U.S. taxable investors, these participants take advantage of investing into a U.S. limited partnership feeder fund. In order to avoid exposure to U.S. tax regulations, non-U.S. and U.S. tax-exempt investors participate via a separate offshore feeder company.
Consider investment types
Equity: An equity investment involves the purchase of shares of that company in the stock market. These shares are typically traded on a stock exchange.
Debt: Venture debt funds typically provide more flexibility for capital investments than commercial banks. As security for the loan repayment, collateral will be pledged, including company assets, cash, inventory, and intellectual property.
Warrants: In the investment context, warrants are securities that allow the holder to purchase the underlying stock of the issuing company at an exercise price until the expiry date.
Options: An option allows investors to buy or sell an underlying financial instrument, such as an ETF, security, or index, at a specified price over a certain time period.
Evaluate registration options and costs to assure compliance
As one considers the idea of becoming a VC fund sponsor, becoming a Registered Investment Adviser (RIA) is recommended. It is also important to develop a compliance program and manual, which may include local regulatory considerations to assure compliance.
One example of compliance issues are Blue sky laws are state regulations established as safeguards for investors against securities fraud. The laws, which may vary by state, typically require sellers of new issues to register their offerings and provide financial details of the deal and the entities involved.
Determine the provisions to be included in your offering documents
Before launching a venture capital fund, it is important to consider the provisions that will be covered in the offering documents, which may include the following:
Capital calls: Considered the art and science of predicting the amount of money the VCs will deploy in the next 6 to 12 months, capital calls help GPs determine if additional funds will be required. If this is the case, some firms will create a specific side fund with new or existing LPs just to invest in a certain opportunity.
Distributions and waterfall calculations: As underlying investments are sold for gains, a distribution waterfall sets forth the method by which capital is distributed to the fund's various investors Typically, the total capital gains earned are distributed according to a cascading structure made up of sequential tiers, hence the reference to a waterfall.
Allocation of profits and losses: Profits and losses from the investments in the fund will be distributed between the partners according to the specifications of the offering document. While the allocation of profits and losses do not have to be equal to the percentage of the equity each partner has in the fund, it is a common method of allocation.
Carried interest, preferred return, and claw-back clauses: Carried interest, or the share of any profits that the GPs receive as compensation, acts as a type of performance fee for fund sponsors, and can also motivate the fund's overall performance.
The preferred return clause outlines the fund's profit distribution preference and sets the rules about how profits, either from operations, sale, or refinance, are distributed. Usually, the preferred return will be given to one class of equity before another, until a certain rate of return on the initial investment is achieved.
Management fee and offsets
In their offering memorandum, many VC funds provide for a management fee "offset," where the fund-level management fee is reduced by any portfolio company fees earned by the fund manager and its partners.
Portfolio valuation can be complicated because most fund managers are expected to develop their own valuation methodology, including documentation for each investment. They are also required to have a valuation committee or an external panel of experts on standby to evaluate their approach and to back-test any new methods of investment evaluation.
For VC fund investments, the value is generally realized through the sale of the entire investee company, rather than the transfer of individual shareholder contributions. The enterprise value of the business at on the date of measurement will usually provide key insights into the value of investment shares in that business.
One of the more complex issues in the VC space is the integration of separate valuation techniques, such as revenue, DCF, DDM, net profit multiples, and EBITDA.
Operation Considerations
Attracting investors is a primary goal of any VC fund, which is why it is so important to clarify your investment strategy and unique edge from the outset. The fund's marketing documents should introduce the overall approach, clearly demonstrate specific areas of expertise, and outline the ideal types of investments that will be used to implement this strategy.
Below are the primary investment vehicles often included in private equity fund portfolios:
Growth equity/capital: Growth equity (also known as growth capital or expansion capital) is a form of investment available in relatively mature companies as they undergo a transformational event with the potential for some dramatic growth.
Leveraged buyout: A leveraged buyout (LBO) is the acquisition of another company using a significant amount of borrowed money to meet the cost of acquisition. The assets of the company being acquired are often used as collateral for the loans, along with the assets of the acquiring company.
Mezzanine debt/capital: Mezzanine debt bridges the gap between debt and equity financing and is one of the highest-risk forms of debt. Mezzanine debt occurs when a hybrid debt issue is subordinate to another debt issue from the same issuer.
Venture capital: Venture capital is generally allocated to small companies with exceptional growth potential, or to companies that have rapidly grown and are poised for continued expansion.
Distressed and other situations: Distressed debt investing is the deliberate purchase of debt from a troubled company, often at a steep discount. This allows investors to turn a profit if and when the company recovers.
Secondary markets: The secondary markets are where investors buy and sell securities they already own. It is much like the «stock market,» though stocks are also sold on the primary market when they are first issued.
Consider strategic investment types
Venture capitalists are investing in many of the newest technologies, as startups have acquired more pre-seed and seed funding rounds than every before. Here are some of the most active industries that venture capitalists are investing in.
Internet and Software Services
Industrial Manufacturing
Developing Biotechnology
Cryptocurrency
Robotics
Space exploration
Telemedicine
Security Defense
Develop a strategic business plan:
As with any new business, it is important for any VC fund to spell out its strategic business plan, keeping in mind the following considerations.
Operating budget
Cash flow projections (fixed vs. variable costs)
Determination of expenses to be paid by the management company vs. absorbed by the fund
Timeline for execution
Prepare an executive summary and basic term sheet
The next step in VC fund formation is to prepare an executive summary and a basic term sheet, which will outline the primary strategy, timelines, terms, and commitments. This is where the fund will disclose the terms by which management fees and carried interest will be allocated and paid out, and when.
The executive summary and term sheet should include the following:
Description of basic terms for the fund
Statement on the fund strategy
Fund life and investment period
Capital raise and closing period
Minimum capital contribution
Management fee
Carried interest
Select external consultants
This early phase is also a time to choose the external consultants that will be utilized by the fund and disclose the individuals or companies involved in advising and supporting the partners.
Attorney
Qualified custodian
Independent accountant
Fund administrator
Regulatory consultant
Independent valuation consultant
Independent directors
Information Technology (IT) consultant and support
Third-party marketers/fundraisers
In addition to the primary consultants, this phase is also when the fund is named, along with the fund's general partner (GP), managing member, and investment manager. Members of the management team, including the Chief Executive Offer, Chief Operating Officer, and Chief Financial Officer will also be named at this time.
How the Fund Works: Forming the Fund
For the purposes of forming a legal entity for a venture capital fund, the sponsor must identify the participants and commit to the corporate structure. The fund participants must include the following:
The Venture Capitalists Forming the Fund (individuals)
The General Partner, LLC
Together, these participants will form a corporation, which is usually a Delaware Limited Partnership or Delaware LLC. This new entity becomes the legal business that controls the fund, and includes the Venture Capital Fund, LP, and the General Partner, LLC
The advantages of folding both entities into one Delaware Limited Liability Company are as follows:
Limits Liability for Members
Tax Advantages

Pass-through
Capital gains
Tack holding periods
Additionally, forming a "Venture Capital Fund, LP" will cover the various investors, or Limited Partners (LPs) in the fund, which may include high-net-worth individuals, estate planning vehicles, pension plans, insurance companies, university endowments, foundations, and funds of funds.
The Flow of Capital
Step 1: Capital Contributions: Typically, the Limited Partners (LPs) in a VC fund will contribute all but one percent of the capital contributions, which might look like this:
General Partner, LLC = 1%
Limited Partners = 99%
Total Contributions = Venture Capital Fund, LP
Step 2: Making Investments: One the fund has all the capital it needs to begin acquiring assets, the VC fund will begin forming portfolio companies.
Venture Capital Fund, LP forms Portfolio Companies
Step 3: Splitting the Profits: After the specified period of investment, the fund participants begin to realize profits from the fund, which is broken out as follows:
General Partner, LLC gets 20% (Carried Interest)
Venture Capital Fund, LP gets 80% (Profits)
Step 4: Paying the Management Fee: Each fund might be somewhat different in the way these fees are paid, but the majority are set up in the following way:
Venture Capital Fund, LP pays the General Partner LLC 2.5% annually, which is a percentage of contributed capital and is paid out quarterly. The management fee is designated to fund the operations, and usually declines after the investment period ends.
Another way of handling the management fee is to have the Venture Capital Fund, LP pay the 2.5% management Fee to "Management Company, LLC", who will then pay the General Partner, LLC.
Building the Franchise
While most funds exist in a relationship between the Venture Capital Fund, LP as a group of investors under the General Partner, LLC, it is likely that a VC fund will expand to form additional partnerships under the same GP. In such a scenario, the corporate structure might look something like this:
Venture Capital Fund, LP is formed as a group of investors under General Partner LLC
Venture Capital Fund II, LP is formed as a separate group of investors under General Partner, LLC
Multiple Funds
In the event of further expansion, another fund, "Venture Capital Fund III, LP", is formed as a separate group of investors under the General Partner, Fund III, LP.
Benefits of Using a Management Company
As the fund expands and becomes more complex, many VCs opt to use a management company to take care of the day-to-day operational tasks, while taking advantage of some additional benefits.
The Management Company will allow funds to streamline operations under a permanent entity, with one office lease, and handle employees and benefits. In addition, the management company offers consolidation in management, and provides a place where all funds can pool their excess management fees while insulating liability from any one fund.
Preparing the Fund Documents
Creating the fund documents requires a thorough understanding of the fund strategy and what will most appeal to the ideal investor. The necessary documents should be straightforward and include the basic elements in varying levels of detail.
An introductory summary of the fund and its objectives, including the key differentiator or hook. Think of this as an elevator pitch in writing.
In an executive summary, outline what makes the fund unique and the industries in which it expects to invest. Include some basic information about the business plan and the niche the fund expects to fill in the competitive landscape.
Details about the management team, such as names and titles in the summary portion, short bios in the body of the document, and full resumes for the due diligence process.
Financial projections, such as expected revenues, expenses, and profits in the summary, and a lengthier five-year version within the business plan. The full financial model must be available for the purposes of due diligence.
The specific financing request and how those funds will be used, should be mentioned briefly in the executive summary, and expanded upon later for due diligence. Ideally, a 90-day plan for how the fund will proceed after the receipt of initial funding will be included, along with development timelines and operational milestones for ongoing projects.
During the due diligence and negotiation periods, additional documents will be requested. Venture Capital firms typically provide all legal closing documents.
Limited Partnership Agreement
When a venture capital fund is formed, a partnership agreement is put in place to specify the duties of the general and limited partners.
The limited partnership agreement should include details about:
Capital distributions and gains
The way in which any negative events that occur during the life of the fund will be handled
Any restrictions on a general partner's powers
When drafting the agreement for the fund, all of the partners in the venture capital fund should carefully consider all of the possibilities and work with legal counsel to ensure enforceability.
A key provision in such an agreement is how much authority to give the general partners regarding investment decisions, and any restrictions that will be placed on their powers. The LPs may decide to trust and accept the general partners' decisions about investments for the limited partnership, or they may decide to limit the general partner's authority.
Other major provisions include the economic deal, or how allocations, distributions and claw-backs will be handled, any restrictions on the diversity of investments, governance issues, and the alignment of interests between the parties.
Side Letters and the Most Favored Nations Clause
Side letters set out a secondary set of terms that can supplement or modify the terms of the partnership agreement for a venture capital fund. These changes, which are acknowledged by a negotiating limited partner, are typically memorialized in a letter that is executed by one of the fund's managers. Side letters are frequently used to grant important investors special privileges and can be useful tools for accommodating special requests from prospective LPs on the cusp of the initial closing.
Most often, side letters are granted to seed investors, those with large commitments, and friends or family of the fund managers, but they may also be issued to those who are subject to government regulation through ERISA, the Bank Holding Act, or public records laws. Additionally, side letters can be used to meet the needs of limited partners participating in subsequent closings without creating an amendment to their existing agreements.
Because many of the accommodations within side letters would be advantageous to other investors, many prospective partners will ask for a most favored nations (MFN) provision. This provision allows for the election of certain benefits that were granted to other limited partners via side letter.
Best Practices for Side Letters and MFN Rights
While side letters and MFN rights may complicate the administrative duties of the manager, it is possible to make this process more manageable but setting up certain limitations and provisions upfront.
Form the fund with a clear strategy for side letters
Consult with legal counsel to determine the appropriate terms for the partnership agreement
Standardize terms across all side letters
Consider including specific language about side letter requests in the agreement
Use standardized MFN carveouts, such as granting them only to limited partners with greater commitment amounts
Tailor side letter provisions to specific circumstances and facts
If possible, distribute side letters for MFN election only after the final closing
Require limited partners exercising MFN rights to set out elections in writing within a designated timeframe
Subscription Agreements
In a venture capital fund, the subscription agreement is the investor's application to join a limited partnership. It is also a two-way guarantee between the subscriber and the company, where the fund agrees to sell a specific number of shares at a predetermined price, and in return, the subscriber pledges to purchase the shares at that specific price. A general partner may also accept smaller commitment from investors if the fund is already oversubscribed.
Some agreements include a specified rate of return that investors are guaranteed to receive, which might be a percentage of the company's net income, or a series of lump sums that are to be paid out on specific dates.
Upon subscribing to an investment in a venture capital fund, investors usually commit to invest a certain sum, or capital contribution, within a specific timeframe by the sponsor (a capital call). During a capital call, the sponsor will specify the capital commitment percentage of each investor, after which the investors have a set period of time to contribute.
The benefits of subscription agreements:
The limited partners maintain maximum utility of their money for the longest period possible because it a lump sum contribution is not required at initial closing.
Venture capital fund managers can maximize the internal rate of return (IRRs), which considers the elapsed time of ownership with the rate of return on investment to determine the actual return. This helps the fund manager prioritize the projects with higher IRR.
Closing Conditions
In a standard agreement, conditions for closing are a description of what must take place before the transactions promised in the agreement can be completed. With a stock purchase agreement, or in this case, a subscription agreement, the model provides that the purchase may not actually occur on the date of the agreement but will take place on a future "closing" date, after special conditions are met.
Such conditions may include satisfactory completion of due diligence, obtaining a satisfactory opinion of the company's counsel, or qualification of the investment under "blue sky" securities laws. All of these conditions must be met before a VC investor is obligated to make an initial financial contribution. Closing conditions may also hinge upon the fund meeting its minimum size for viability.
Investor Questionnaire
As a privately held corporation, a venture capital fund is not subject to all of the oversight and regulations typically required of a public traded company. Alternatively, the U.S. Securities and Exchange Commission (SEC) takes other steps to protect investors and maintain fairness in financial markets by issuing rules that govern the sale of these securities and restrict who is permitted to invest. One such restriction prevents the offering from being made to anyone other than an "accredited investor".
What is an accredited investor?
Being designated as an accredited investor is an important qualifier for investors looking to join certain kinds of private securities offerings, including "natural persons and entities conducted pursuant to Rules 506(b) and 506(c) of Regulation D under the Securities Act of 1933." The term also applies to "qualified institutional buyers" under Rule 144A under the Securities Act, and other exemptions under federal and state securities law.
Please note that the SEC has recently amended the definitions of Accredited Investors through a series of adopted amendments. According to the newly adopted definitions, the rule broadens the categories of qualified individuals and entities by adding new classifications of eligibility, based on experience, professional knowledge, or certifications.
The new rules make these groups eligible to participate in private capital markets, not only based on their net worth or income, but also because they have achieved clear and measurable milestones of financial sophistication.
In addition to these new qualifications, an individual can become an accredited investor through the following financial criteria:
Income – His/her income must exceed $200,000 per year (or joint income with spouse of more than $300,000 per year) for the past two years with the realistic expectation of the same for the current year.
Net Worth – His/her net worth exceeds $1 million (either alone or together with a spouse) excluding their primary residence.
Company Insider – He/she is a director, executive officer, or general partner of the company.
For an entity to qualify, it must have assets exceeding $5 million, be comprised only of equity owners that are themselves accredited investors or be a qualifying institutional investor (like a bank, insurance company, investment company, or private business development company).
While there is no formal SEC application process to become an accredited investor, nor is there a certificate or any other rite of passage, the individuals or entities must provide proof that they meet the eligibility requirements. This is traditionally done through the Investor Questionnaire.
In addition to providing proof of financial knowledge and resources, the Investor Questionnaire may be used to gather additional information about potential investors, including but not limited to:
Qualified purchaser
ERISA status
Look-through issues
NASD restricted persons
PATRIOT Act compliance
Contact information
This information may be used to determine exemptions and legal opinions, as well as for general fund management purposes. The questionnaire can also be used in the company's private placement memorandum under Section 4(a)(2) of Rule 506(b) of Regulation D,
Government Filings
Venture capital funds are seeking to sell securities to accredited investors only, avoiding many SEC filings, but it is still a good idea to file paperwork related to this exemption. These filings will involve a Form D filing with the SEC, which must occur within 15 days of the first sale, as well as a review of state regulations for each state in which the offering is made.
Venture Capital and Regulatory Oversight
Venture capitalists and private equity firms must register with the SEC and are subject to information reporting requirements unless their funds are considered to be qualified venture capital. As a result, venture capital is subject to most of the basic regulations that apply to other private securities investments.
Financial institutions that provide venture capital must adhere to anti-money laundering and know-your-customer (KYC) regulations, such as the verification of client identities and obtaining the proper federal identification numbers. Proper KYC helps to prevent money laundering and is an important element of financial crimes enforcement as stipulated by the Patriot Act.
The most notable regulation unique to venture capitalists is that they may not advertise or make any other solicitations for the fund.
Venture capitalists are also regulated by the SEC's insider trading laws, which prevents the misuse of nonpublic information for financial gain.
Below is a resource of applicable SEC laws that impact the formation of venture capital funds:
Because venture capitalists help fund higher-risk start-up firms and other small businesses that have the potential for high levels of long-term growth, the investment vehicle is widely accepted by experienced investors as a lucrative long-term asset.  Venture capitalists are also a boon to the U.S. economy, as they invest in rapidly growing companies that appear to be poised for accelerated earnings growth in the years to come.
Resources:
This article is provided for your convenience and does not constitute legal advice. The information provided herein may not be applicable in all situations and should not be acted upon without specific legal advice based on particular situations. Prior results do not guarantee a similar outcome.
Our Founding Partner
Макс Дилендорф
Макс Дилендорф возглавляет направление по работе с недвижимостью, предложениями токенизированных ценных бумаг (STO) и сферой блокчейн.
Макс специализируется на аспектах ...
Узнать больше