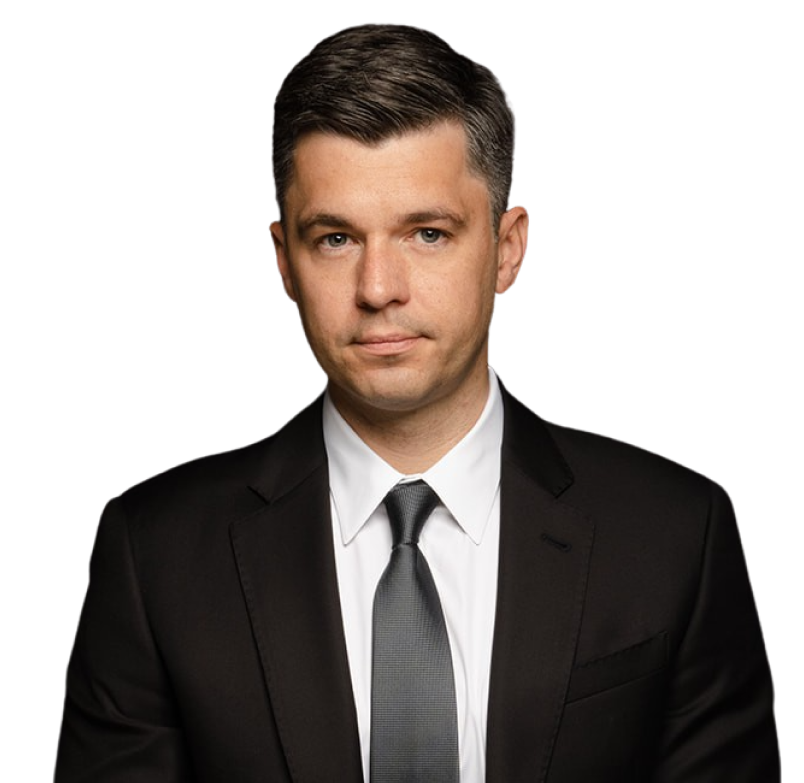 Max Dilendorf, Esq.
ABOUT
Max Dilendorf's practice is focused primarily on digital assets, cryptocurrency, and technologies that drive blockchain and related distributive computing networks. An early adopter of virtual currency and associated legal, financial, and business implications, Max is considered the go-to expert for anything crypto-related. His areas of specialty include tokenization of assets, setting up cryptocurrency exchanges, NFT art, and music offerings as well as structuring domestic and international real estate transactions using cryptocurrencies.
Max has more than 15 years of combined experience as a transactional attorney, business consultant, commercial litigator, and entrepreneur.
He has traveled extensively in Europe and Asia over the past five years, where he was tapped as a speaker and panelist at many conferences related to the regulation of digital assets in the US, asset tokenization, tax and corporate considerations for both individuals and corporate clients doing business in the US, tax planning for inbound investments in U.S. real estate and private equity deal flow as well as domestic and offshore asset protection for UHNW individuals.
Having gained valuable experience in all aspects of crypto assets, Max is also a top forensic Bitcoin and crypto expert witness. His expertise has also made him one of the top cryptocurrency consultants for Fortune 500 companies such as IBM, Berkshire Hathaway, and HSBC.
One of the key areas of Max's practice is helping clients with money transmittal licenses and ensuring compliance with state MSB licensing and FinCen requirements. His full-service approach also includes the development of anti-money laundering (AML)/Bank Secrecy Act (BSA) policies, designing strategy, and dealing with state and federal regulators, Max helps clients with obtaining federal and state money transmittal licenses (MTLs) in all 50 states, as well as national charter licenses for crypto operators and digital banks.
Max's experience with fund formation and crypto assets makes him a trusted advisor for cryptocurrency fund sponsors on all aspects of the fundraising lifecycle, from fund formation to regulatory compliance. His services within this area also include the preparation of offering documents for new private cryptocurrency funds, limited partnership agreements and subscription agreements, global regulatory consulting, and the structuring of funds to meet the sponsor's objectives.
As a trusted advisor for high-growth businesses, startups, multinational families, and foreign governments, Max brings a wealth of business and financial expertise into his cryptocurrency practice. His areas of expertise include helping emerging and preeminent cryptocurrency projects gain and maintain compliance with U.S. securities laws, resolving disputes between customers and cryptocurrency exchanges, assisting peer-to-peer traders and exchanges in complying with state money transmitter laws and the Bank Secrecy Act, and guiding a variety of other businesses in compliance matters as they interact with one another in the crypto space.
Max advises clients on the latest regulatory developments from the SEC, Commodity Futures Trading Commission (CFTC) and other government agencies regarding cryptocurrencies and tokenization. He regularly assists companies considering initial coin offerings in determining whether their tokens are considered securities under relevant federal and state laws and advises on AML and KYC issues and other compliance issues faced by money services businesses.
Max provides strategic, transactional, and regulatory advice to a wide range of established and emerging participants in the FinTech space, and regularly represents token issuers, cryptocurrency exchanges, traditional and crypto investment funds, as well as family offices and managers wishing to cross over to the blockchain sector.
In addition to specializing in crypto-related matters, Max handles all aspects of real estate transactions, including acquisitions, dispositions, development, and leasing of real estate in New York.  He represents foreign individuals and family offices in connection with investments in US-based real estate, funds, and private equity.  Known as a highly-skilled negotiator and aggressive litigator, Max handles various real estate litigation matters.
Max regularly assists international and domestic entrepreneurs, businesses, venture investors, and startups at all stages of raising capital in the US.
Invited speaker at government and private institutions such IBM, HSBC, Berkshire Hathaway, NYU, the Thailand Securities and Exchange Commission, the South East Asian Central Banks (SEACEN) Research Center.
Max was named to Super Lawyers' New York Metro Area "Rising Star" in 2018, 2019 and 2020 in Real Estate and Technology Transactions sectors.
Speaking Engagements:
Hong Kong, HK.  C-Block Capital.  Presentation: "Structuring Cross-Border Real Estate Transactions Using Cryptocurrency."
Kuala Lumpur, Malaysia. Asia Blockchain Review and Infinity Blockchain Ventures. Workshop. "Digital Securities (aka Security Tokens). How to launch STO in the US and issues to consider." April 1, 2019.
New York. IBM Blockchain Ventures. Workshop: "Double Header: Security Token v. Utility Token; Jurisdiction Selection."
New York.  New York University.   Panel Discussion: "Blockchain and Digital Securities Regulations in US and Abroad."
Kuala Lumpur, Malaysia. South East Asian Central Banks (SEACEN) Research and Training Centre. Presentation: "Framework for Launching Digital Securities in the US and Global Modernization of Capital Markets."
New York.  Joint webinar with Securitize: "Real Estate Tokenization."
New York. Berkshire Hathaway HomeServices.  Presentation: "Structuring Foreign Investment in New York Real Estate Using Bitcoin".

Connecticut.  CCIM's Annual Golf Symposium.  Panel Discussion: "Blockchain in Commercial Real Estate.  The Future is Here."

Moscow, Russia.  Blockchain Week Conference.  Presentation: "How to Launch Compliant Digital Securities in the US.
Hangzhou, China.  Bitrise Capital.  Masterclass:  "Issuance and Sale of Digital Securities in the US."
Bangkok, Thailand.  Thailand Securities and Exchange Commission (SEC).  Topic: "Structuring Digital Security Offerings in the United
New York.  National Financial Network.  Joint presentation with Popular Bank.  "Structuring Real Estate Transactions Using Digital Assets."
New York.  HSBC.  Presentation: "Foreign Investments in US Real Estate and Use of Digital Assets."

New York.  Joint Webinar with OpenFinance, Harbor and Diginex.  "Slicing through the Hype Around Tokenized Securities."

New York.   Synergy Global Forum, Executive MBA Program.  Presentation:  "Regulation of Digital Assets in the US.

New York.  Peltz International.  Panel Discussion: "Real Estate Opportunity Funds." 

New York. Joint Webinar with tZero and Polymath.  "Security Token Framework: Interoperability Through Standards?"

New York. Joint Webinar with OpenFinance and Securitize.  "STO/DSO: from Planning to Secondary Trading."

New York. NYC Blockchain Center. Workshop: "Real Estate Tokenization."

New York. Blockchain Society Executives-Only NYC Conference. Panel Discussion: "Security Tokens v. Utility Tokens."

New York.   US-China Real Estate Forum.   Panel Discussion: "Tokenization of Real Estate."

Moscow, Russia.  World Blockchain & Cryptocurrency Summit.  Panel Discussion: "Regulations of Cryptocurrency in the US an Abroad."
SELECTED TRANSACTIONS
Commercial Loan Secured by a Building
Represented a borrower in a $10M commercial loan transaction secured by an office building in Florida
Acquisition of Development Lot in Miami
Represented a developer as co-counsel in the acquisition of a $21M development lot on the Indian Creek Compound, Miami, FL
Luxury Estate Lease in Greenwich, CT
Represented a member of a royal family as co-counsel in drafting and negotiating the lease for a residential property in Greenwich, CT 
US Inbound Investment in Commercial Development Project
Represented a foreign private fund in connection with the corporate and tax structuring of their investment in commercial real estate project in NYC by utilizing beneficial tax treaty provisions, and combination of debt and equity 
Commercial Property Tokenization Consulting
Advised a client regarding the process of tokenizing $40M commercial property in the Midwest, addressed applicable securities regulations and token transfer restrictions for US and non-US investors, selected appropriate legal structure and consulted regarding the underwriting process on a smart-contract, issuance of ERC-20 tokens, verification of the accreditation status of US and non-US investors, KYC/AML checks, as well as onshore/offshore banking
Reverse 1031-Exchange
Advised a foreign client on structuring a reverse 1031-exchange for the sale of $5M mixed-use property in Midtown Manhattan
Acquisition and Development of EPA's Superfund Site in Connecticut
Represented a developer as co-counsel in a $50M project that involved the acquisition of the EPA's Superfund site in CT for developing a 100,000 SF retail store
Sale of Multi-Family Building and Partner Buy-Out
Successfully represented a client in the sale of a mixed-use building in Midtown, Manhattan and in the buy-out of his partner's ownership interest in the building
Retail Condo Purchase and Financing
Assisted a foreign client with obtaining financing for the purchase of a $5.75M retail condominium unit in Downtown, Manhattan
Delaware Dynasty Trust to Purchase and Hold Investment Real Estate
Represented a foreign investor as co-counsel in connection with setting-up a Delaware Dynasty Trust for asset protection purposes and for purposes of purchasing and holding investment real estate in New York
Tokenized Real Estate Lending Fund
Working with a client on setting-up a $20M tokenized real estate lending master feeder fund (US/Cayman), including potential tax implications, application of US securities and investment regulations and worldwide treatment of the fund tokens