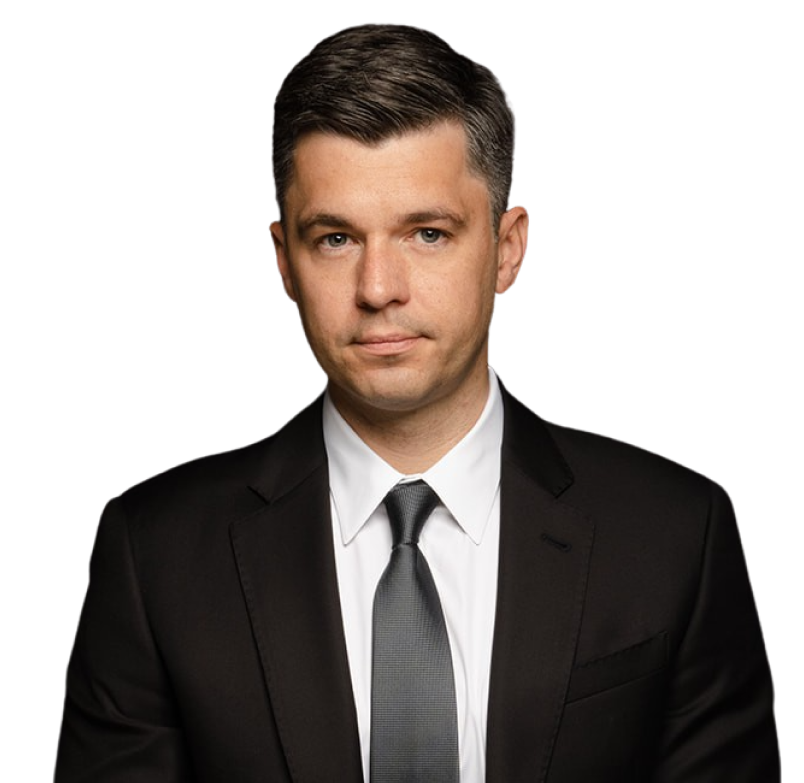 Max Dilendorf is an internationally recognized authority and pioneer in legal issues involving cryptocurrencies and blockchain technology.  Max is an early adopter who joined the blockchain industry in 2016. Max was named a 2018-22 New York Metro Super Lawyer in digital asset and cryptocurrency law practice. Max regularly assists clients with:
Obtaining money transmitter licenses in all 50 states for cryptocurrency exchanges, CefI protocols and stablecoin issuers;
Advising cryptocurrency clients on Anti-Money Laundering (AML)/ Bank Secrecy Act (BSA) regulations and compliance;
Launching security token offerings under Reg. CF, Reg. D and Reg. A+ exemptions of the Securities Act of 1933;
Asset tokenization and developing legal market entry strategies in the US, Southeast Asia, and Europe for digitized securities;
Advising clients on centralized and decentralized cryptocurrency designs, decentralized governance, Defi model -design and implementation;
Crisis management involving high-profile cryptocurrency settings; and
Litigating/arbitrating cryptocurrency consumer fraud cases.
Max is passionate about learning complex blockchain projects and concepts. He is interested in the legislative progress of legalizing P2P cryptocurrency transactions on decentralized applications and Web3 networks. This also includes his interest in asset and real estate tokenization, legal mechanisms for decentralizing blockchain networks, and governance protocols.
Max has a history of being featured as an industry expert commenting on the latest cryptocurrency industry trends. He has been featured in Financial Times, ZeroHedge, Bloomberg Law, Reuters, Vice, Yahoo Finance, Forbes, TechCrunch, Law.com, Cointelegraph, Business Insider, Fortune, and many other publications.
Featured In:
September 7, 2022 | Fortune | Metaverse trademark filings through August exceeded all of 2021—even as crypto prices tanked
August 9, 2022 | Bloomberg Tax | Crypto & the Law: Join Us for Our August Lunch & Learn
July 25, 2022 | Cash | Gläubigern der Kryptobank Celsius droht jahrelange Zitterpartie
July 21, 2022 | Bloomberg Tax | Crypto: Everything the Law Firm Managing Partner Needs to Know
July 18, 2022 | Handelsbatt | Insolvenz: Gläubigern der Kryptobank Celsius droht jahrelange Zitterpartie
July 18, 2022 | New York Law Journal | New York Is Losing the Race To Be a Home for DAOs
July 15, 2022 | Reuters | Analysis: Clients of crypto lender Celsius face long wait over fate of their funds
July 8, 2022 | Inman | 3 Trends Poised to Disrupt the Real Estate Landscape
June 7, 2022 |

'Buckle up, everyone.' Nate Chastain's arrest shows the DOJ is serious about a crypto crackdown

June 2, 2022 | ZeroHedge |

DOJ Charges Ex-OpenSea Exec With NFT Insider Trading

June 1, 2022 | Coindesk | US Charges Ex-OpenSea Exec With NFT Insider Trading
May 10, 2022 | Coindesk |

Can You Really Build a 'Crypto Empire' in the Empire State?

May 5, 2022 | Law.Com | How Metaverse Firms Look to Manage Asset Loss, Disruption Risks in Untested Worlds
May 5, 2022 | ArtNet | U.K.'s High Court Ruling on NFTs as 'Property' Has Been Called a Landmark—But It May Not Actually Change Much
May 4, 2022 | VICE |

Buying Authenticity: Inside the World of the Paid Crypto Shills

May 4, 2022 | VICE |

OpenSea 'Sitting on Ticking Bomb' as Lawsuits Pile Up Over Stolen Apes

April 5, 2022 | Enterpreneur | Is Crypto Coming to an End? This $100 Million Settlement Will Impact Crypto Forever
March 27, 2022 | Business Insider | Investing Juggernaut Animoca Brands Just Shut Down Its Crown Jewel Blockchain Game F1 Delta Time. Players, Investors And Lawyers Explain What Went Wrong — And The Checklist You Need If You're Thinking Of Buying Licensed NFTs
March 17, 2022 | City A.M.| NFTs: Magic Beans, Or Just Plain Lemons?
March 4, 2022 | The Cointelegraph | Crypto Offers Russia No Way Out From Western Sanctions
March 3, 2022 | Bitcoinist | SEC Smells Something Fishy About The NFT Market And Is Launching A Probe, Sources Say
February 25, 2022 | The Cointelegraph | Wyoming's State Stablecoin: Another Brick In The Wall?
February 24, 2022 | Propmodo | When Will Real Estate's Tokenization Transformation Happen?
February 15, 2022 | The Defiant | U.K. Seizes NFTs In Fraud Probe As Authorities Hunt For Illicit Digital Assets
February 15, 2022 | Investing.com | Has The SEC 'Wiped Out' DeFi Lending Model With BlockFi Penalty?
February 15, 2022 | Yahoo! Finance | U.K. Seizes NFTs In Fraud Probe As Authorities Hunt For Illicit Digital Assets
February 15, 2022 | TechCrunch | What BlockFi's $100M Settlement With The SEC Means For Future Of DeFi Lending
February 9, 2022 | Market Insider | 10 Questions About BitLicense From A Crypto Lawyer
February 3, 2022 | Prime Resi | Unreal Deals: Is Crypto The Future For Real Estate?
February 1, 2022 | Forbes | The World Of NFTs: Taxation And Compliance
January 27, 2022 | Taxnotes |The World Of NFTs: Taxation And Compliance
January 24, 2022 | AdPro | Heated Driveways, Cryptocurrency Sales, And Other Luxury Real Estate Trends For 2022
January 13, 2022 | Sotheby's | Is Crypto The Future For Real Estate?
January 12, 2022 | Be In Crypto | Crypto Wealth & Hybrid Working Drive Luxury Property Purchases
January 4, 2022 | The Real Deal | Inside Proptech Unicorn Pacaso's Meteoric Rise — And Its Fallout
December 16, 2021 | How-to Geek | Here's The Problem With NFTs
December 10, 2021 | Mansion Global | When Purchasing A Real Estate NFT, What Are You Really Buying?
December 10, 2021 | Wikipedia | Bitcoin ATM
December 2, 2021 | Artnet | These 7 Legal Gray Areas Could Determine The Future Of The Booming NFT Market
December 1, 2021 | ABC 7 | Crypto: 7 On Your Side Investigates Currency And Confusion
November 30, 2021 | The Japan Times | The New Masters: How Auction Houses Are Chasing Crypto Millions
November 30, 2021 | Financial Times | What Are Non-Fungible Tokens And How Do They Work?
November 19, 2021 | ETF Trends | Tokenize Everything
November 8, 2021 | Reuters | The New Masters: How Auction Houses Are Chasing Crypto Millions
October 5, 2021 | Yahoo! Finance | Crypto Becomes The Newest Fake News Frontier
September 30, 2021 | The Washington Post | Crypto Tax: 'MiamiCoin' Has Made The City $7 Million So Far, A Potential Game-Changer For Revenue Collection
September 24, 2021 | Messari | Venture DAOs: So Hot Right Now
September 24, 2021 | Atlantic Council | The Case For A Financial Digital Asset Framework For Cryptocurrencies
September 1, 2021 | Bank Info Security | Bitcoin ATM Firms Seek To Shape Regulations
August 19, 2021 | Mansion Global | What Taxes Can A Buyer Expect When Purchasing A Home With Bitcoin?
August 10, 2021 | Markets Insider | Launching A US Crypto Hedge Fund – Tips From A Crypto Lawyer
August 5, 2021 | MarketWatch | Uniswap – An Illusion Of Decentralization?
July 16, 2021 | Yahoo! Finance | 101-Year-Old Industrial Pump Valve Company Now Accepting Cryptocurrency From International Buyers
July 7, 2021 | The Defiant | Crypto Scams Are Out Of Control, Again… Here's How To Stop Them Forever
June 22, 2021 | Coindesk | Story From Markets Security Token Market Shows Signs Of Resurgence
May 31, 2021 | Tokenpost | Algocap.Io Becomes First NY Brokerage To Accept Bitcoin (BTC), Ether (ETH), And DOGE For Real Estate Transactions
May 27, 2021 | Law.com | Security Token Offerings (STOs) For NFTs?
May 21, 2021 | Gotham Weekly | NYC Brokerage, Algocap.Io – First To Accept Crypto In Real Estate Transactions
April 25, 2021 | Yahoo! Finance | Coinbase Customers With Hacked Accounts Get No Justice From 'Horrible' US Laws: Fintech Lawyer
April 25, 2021 | Hodlin | How To Buy Real Estate With Cryptocurrency?
April 13, 2021 | Law 360 Pulse | As NFTs Boom, Cascade Of Cases And Legal Questions Await
April 13, 2021 | Entrepreneur | Max Dilendorf Is A Top Cryptocurrency And Digital Asset Lawyer
March 24, 2021 | Law.com | What's Next: NFTs Pose A Billion-Dollar Legal Question + The Fate Of Diversity Shareholder Suits Against Big Tech + Facebook's Leaked Documents Resurface In Cambridge Analytica Litigation
March 22, 2021 | Newshub | Digital Artwork That Anyone Can Copy For Free Sells For Almost $100 Million
March 22, 2021 | Los Angeles Magazine | Thinking Of Buying Or Minting An NFT? Here's What You Need To Know
March 16, 2021 | AP | Dilendorf Law Firm: Will NFTs Be Deemed Securities Subject To The U.S. SEC Laws And Regulations?
March 16, 2021 | MarketWatch | Dilendorf Law Firm: Will NFTs Be Deemed Securities Subject To The U.S. SEC Laws And Regulations?
March 11, 2021 | Reuters | Digital-Only Artwork Fetches Nearly $70 Million At Christie's
March 3, 2021 | Yahoo! Finance | Max Dilendorf Serves As A Bitcoin Expert Witness In USCIS EB-5 Green Card Adjudication Proceedings
March 1, 2021 | Page Six | Barry Avrich On 'Made You Look,' His New Doc About Art Fraud
January 14, 2021 | Reuters | U.S. Regulator's Approval Of Stablecoin Payments Provides Regulatory Building Block, Compliance Challenge
November 2, 2020 | The Tokenist | Dilendorf Khurdayan And Entoro Release "Benefits, Risks And Practical Considerations" Report For Tokenized Equities
August 22, 2020 | Hive Blog | Is DeFi For Real?
March 9, 2020 | Financial News Now | A Revolution In Liquidity And Transparency: How Blockchain Technology Is Transforming How We Invest
January 21, 2020 | Forbes | Legal And Regulatory Experts Weigh In On The SEC's Proposed Changes To The Accredited Investor Status
January 17, 2020 | Brick Underground | How To Buy A NYC Apartment: The International Edition
December 6, 2019 | The FinReg Blog | BLOCKCHAIN DISRUPTION AND DECENTRALIZED FINANCE: THE RISE OF DECENTRALIZED BUSINESS MODELS
May 27, 2019 | Thrive Global | Why Face-To-Face Connections Still Trump Digital Ones
May 24, 2019 | Crain's | Opportunity Zones Aren't Just For Real Estate
February 13, 2019 | Financial News Now | A Revolution In Liquidity And Transparency: How Blockchain Technology Is Transforming How We Invest
December 7, 2018 | Bloomberg Law | INSIGHT: How To Defer Bitcoin Capital Gains Through Purchase Of NY Qualified Opportunity Zone Real Estate
November 23, 2017 | Mansion Global | Does The Common Reporting Standard Affect A Chinese National Buying A Home In The U.S.?
November 5, 2017 | FXCM | The Most Popular Cryptocurrency Terms And Phrases
Speaking Engagements:
Hangzhou, China.  Bitrise Capital.  Masterclass:  "Issuance and Sale of Digital Securities in the US."
New York, NY.  Bloomberg Tax.  Presentation: "Crypto & the Law: August Lunch & Learn."
Hong Kong, HK.  C-Block Capital.  Presentation: "Structuring Cross-Border Real Estate Transactions Using Cryptocurrency."
New York. IBM Blockchain Ventures. Workshop: "Double Header: Security Token v. Utility Token; Jurisdiction Selection."
Kuala Lumpur, Malaysia. Asia Blockchain Review and Infinity Blockchain Ventures. Workshop. "Digital Securities (aka Security Tokens). How to launch STO in the US and issues to consider."
New York.  New York University.   Panel Discussion: "Blockchain and Digital Securities Regulations in US and Abroad."
Kuala Lumpur, Malaysia. South East Asian Central Banks (SEACEN) Research and Training Centre. Presentation: "Framework for Launching Digital Securities in the US and Global Modernization of Capital Markets."
New York.  Joint webinar with Securitize: "Real Estate Tokenization."
New York. Berkshire Hathaway HomeServices.  Presentation: "Structuring Foreign Investment in New York Real Estate Using Bitcoin".

Connecticut.  CCIM's Annual Golf Symposium.  Panel Discussion: "Blockchain in Commercial Real Estate.  The Future is Here."

Bangkok, Thailand.  Thailand Securities and Exchange Commission (SEC).  Topic: "Structuring Digital Security Offerings in the United
New York.  National Financial Network.  Joint presentation with Popular Bank.  "Structuring Real Estate Transactions Using Digital Assets."
New York.  HSBC.  Presentation: "Foreign Investments in US Real Estate and Use of Digital Assets."

New York.  Joint Webinar with OpenFinance, Harbor and Diginex.  "Slicing through the Hype Around Tokenized Securities."

New York.   Synergy Global Forum, Executive MBA Program.  Presentation:  "Regulation of Digital Assets in the US.

New York.  Peltz International.  Panel Discussion: "Real Estate Opportunity Funds." 

New York. Joint Webinar with tZero and Polymath.  "Security Token Framework: Interoperability Through Standards?"

New York. Joint Webinar with OpenFinance and Securitize.  "STO/DSO: from Planning to Secondary Trading."

New York. NYC Blockchain Center. Workshop: "Real Estate Tokenization."

New York. Blockchain Society Executives-Only NYC Conference. Panel Discussion: "Security Tokens v. Utility Tokens."

New York.   US-China Real Estate Forum.   Panel Discussion: "Tokenization of Real Estate."
SELECTED TRANSACTIONS
Commercial Property Tokenization Consulting
Advised a client regarding the process of tokenizing $40M commercial property in the Midwest, addressed applicable securities regulations and token transfer restrictions for US and non-US investors, selected appropriate legal structure and consulted regarding the underwriting process on a smart-contract, issuance of ERC-20 tokens, verification of the accreditation status of US and non-US investors, KYC/AML checks, as well as onshore/offshore banking
Acquisition and Development of EPA's Superfund Site in Connecticut
Represented a developer as co-counsel in a $50M project that involved the acquisition of the EPA's Superfund site in CT for developing a 100,000 SF retail store
Acquisition of Development Lot in Miami
Represented a developer as co-counsel in the acquisition of a $21M development lot on the Indian Creek Compound, Miami, FL
Reverse 1031-Exchange
Advised a foreign client on structuring a reverse 1031-exchange for the sale of $5M mixed-use property in Midtown Manhattan
Retail Condo Purchase and Financing
Assisted a foreign client with obtaining financing for the purchase of a $5.75M retail condominium unit in Downtown, Manhattan
Delaware Dynasty Trust to Purchase and Hold Investment Real Estate
Represented a foreign investor as co-counsel in connection with setting-up a Delaware Dynasty Trust for asset protection purposes and for purposes of purchasing and holding investment real estate in New York
Commercial Loan Secured by a Building
Represented a borrower in a $10M commercial loan transaction secured by an office building in Florida
Sale of Multi-Family Building and Partner Buy-Out
Successfully represented a client in the sale of a mixed-use building in Midtown, Manhattan and in the buy-out of his partner's ownership interest in the building
Tokenized Real Estate Lending Fund
Working with a client on setting-up a $20M tokenized real estate lending master feeder fund (US/Cayman), including potential tax implications, application of US securities and investment regulations and worldwide treatment of the fund tokens
US Inbound Investment in Commercial Development Project
Represented a foreign private fund in connection with the corporate and tax structuring of their investment in commercial real estate project in NYC by utilizing beneficial tax treaty provisions, and combination of debt and equity 
Luxury Estate Lease in Greenwich, CT
Represented a member of a royal family as co-counsel in drafting and negotiating the lease for a residential property in Greenwich, CT